The ample air conditioning at Ohio University's Scripps School of Journalism helped cool a few passionate debates about, among other things, how to run surveys,  the ethics of fundraising and whether regional or national advertising co-operatives are viable.  
Andy Alexander, former Washington Post Ombudsman and experienced journalist was first up in the presentation fridge. Now semi-retired and living in rural Virginia, Alexander chairs the Foothills Forum, a new type of community-supported journalism organisation aiming to improve the quality of news in the Rappahannock area, across Virginia, and around the United States.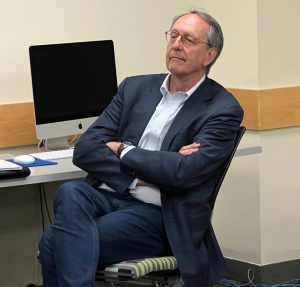 Drawing on his experience of raising money to run the Forum, Alexander advised three main approaches for those publishers seeking funding. 
Firstly, play the long game. 
"You don't just say give me the money, you have to play along, find out what the funder is doing, and mould your approach towards what their interest is," he advised. 
Secondly, go to the people who have the money. 
"In every community, there are people who have money, so start there," he advised. "There are people who will surprise you, some people do have discretionary income, and part of fund-raising is you have to find them."
Thirdly he said that non-profit news organisations need to change their narrative. Do not approach these possible funders and say "Please support journalism". 
"Tell them you're here to support the community, and that they can help in this process," he advised. 
"You go into this job knowing that people won't love you," he said, "but I've noticed in recent years that there's been a shift from journalists to an assault on journalism which worries me because I think that people don't understand what independent journalism is". 
Don't refer to yourself as "the media", Alexander advises, rather remind them that you are their "trusted local source of information".
Many small local newspapers go back more than a century and remain the primary source of news of rural communities, who have watched with alarm as their local newspapers vanished.
The good news is that the audience is growing for news startups, although it's hard to sustain them. This is why Alexander has concentrated his energies on non-profit news and why he teamed up with other concerned parties to launch the Foothills Forum. 
The Forum, which raises funds for local news organisations, is managed by an extremely diverse board. 
"There are fifteen people on the Forum's board," said Alexander. "Some are way out there conservative, some are progressives and some are liberals." But they are not allowed to talk politics at meetings, and he would shut any board member down who attempted to bring political discussions into the meeting. 
Alexander lives in a county called Rappahannock which has a 146-year-old newspaper called the Rappahannock News. After arriving in the county, he got involved in relaunching the paper after a new owner purchased the title and began meeting locals to talk about the publication.
The Foothills Forum set out to help run a survey aimed at finding out what the people of Rappahannock wanted from their paper. While the survey cost $40 000, Alexander stressed that this was money well spent. They discovered that the residents were very interested in accessing broadband, while the editor had thought they would be more focused on issues such as water quality or what to do with outsiders moving into the county. 
"Almost everybody said they loved the paper, but there's not much in it," he said with a chuckle. 
The full details of the survey are available on the FootHills Forum website.
Alexander stressed the importance of hosting what he called "Ginger Groups" which was a form of focused research gathering. While most organisations will not be able to afford the steep costs associated with a survey, there are a host of other techniques to gather information from readers. 
"We host a fourth estate Friday," said Alexander. On the first Saturday of every month, the editor and staff head off to a local coffee shop to meet any reader who wants to ask questions about stories, and the process of journalism. 
"It doesn't cost anything, people show, we sit in a quiet corner and talk," he said. 
"In many cases, it's the first time they've interacted with a journalist." 
Other ideas include holding neighbourhood meetings where a reader invites their friends to their home to meet the editors and staff. 
"It's a low-tech retail-oriented way of having a conversation with someone," said Alexander. Other ideas include an Ideas Forum, where a local topic can be selected for discussion which leads to a host of story ideas.
The late Spring weather in Ohio has seen temperatures rising up to 28ºC, providing a welcome opportunity for delegates to escape from the rather frigid conference room for a sunny lunch break. 
After lunch, it was time for another pair of South African publishers to share their stories.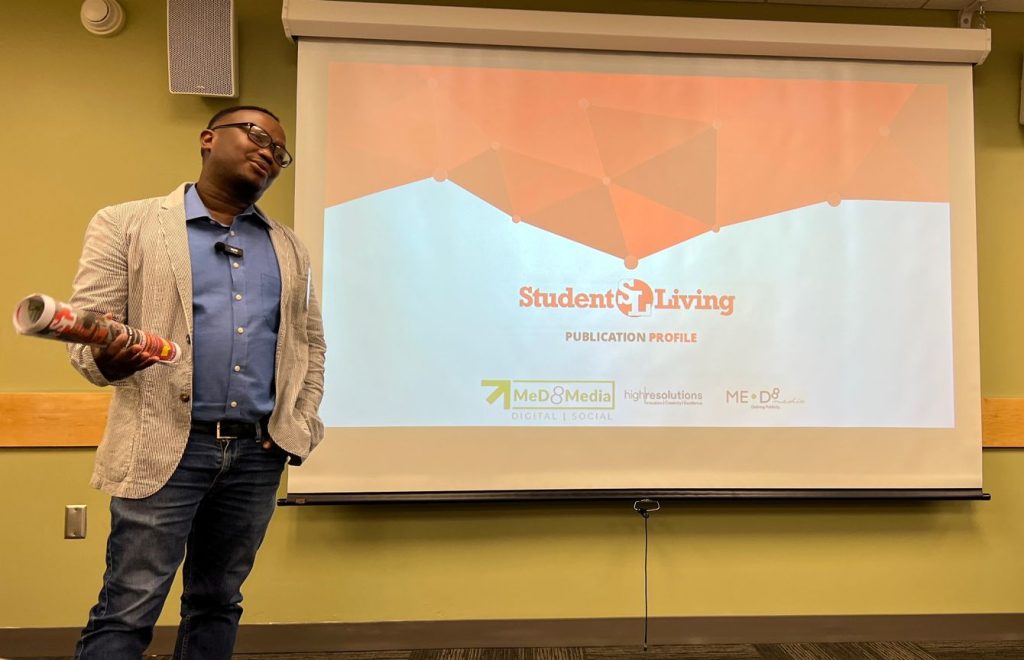 MeD8 Media's Christopher Siyabulela Mcinga, a consummate storyteller and highly-entrepreneurial publisher, shared his journey from growing up as a little boy in an Eastern Cape town called Graaff-Reinet, through managing local newspapers for Caxton to running his own publishing business and supporting other publishers to achieve their goals. 
MeD8 is now the publisher of Student Living and Ntu News, as well as providing digital-publishing services to a number of other publishers.
Mcinga ended his presentation with a pic of his son, sharing with the delegates his goal of making sure that his son and others like him are safe in the future, which is why MeD8 Media focuses not only on profits but also on purpose.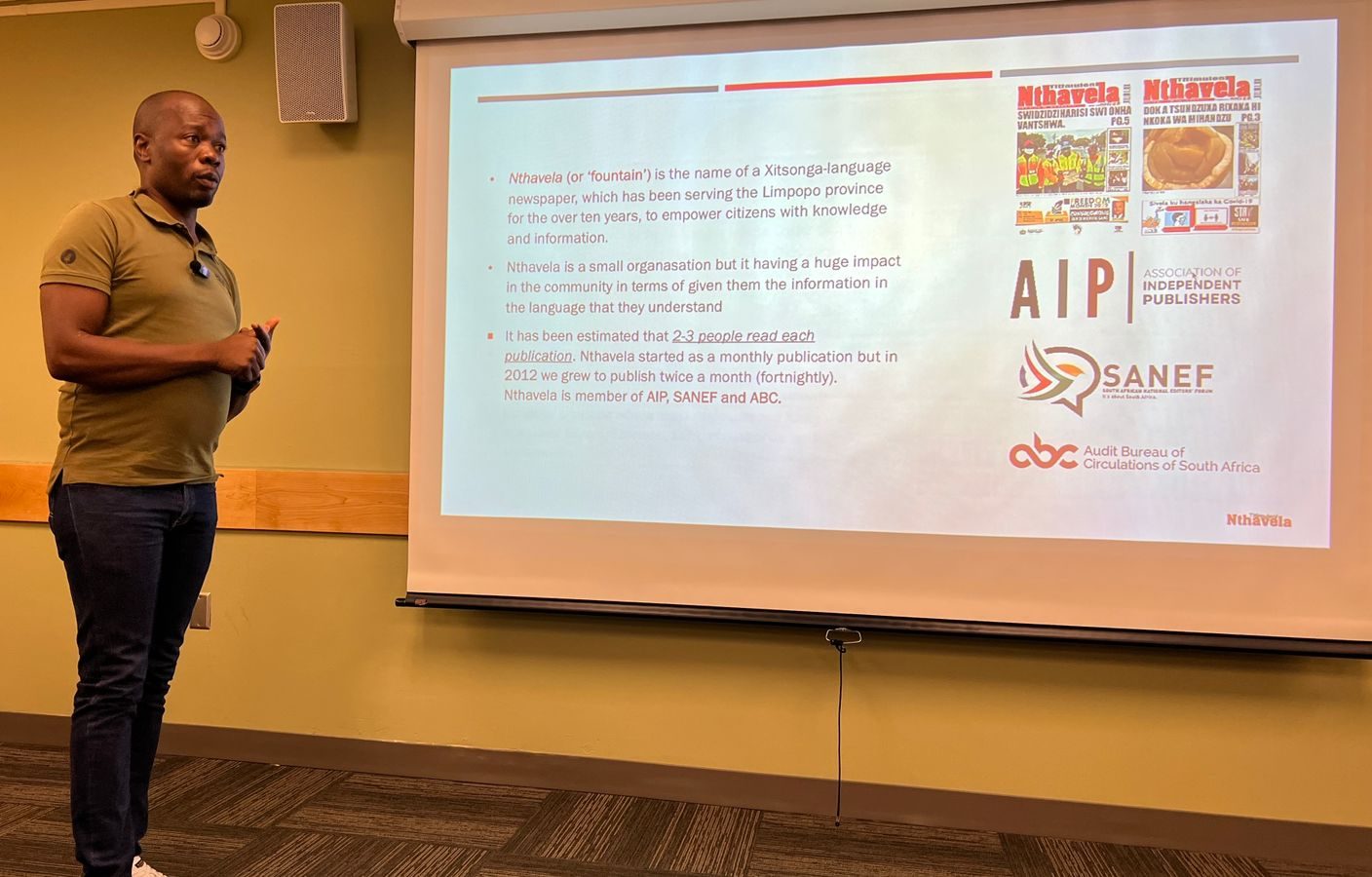 In 2008, Dunisani Ntsanwisi started Nthavela as a monthly publication which circulates in the mainly rural areas of the north-eastern Limpopo province where most residents are Xitsonga speakers.
Nthavela stands for the creative partnerships it has entered into. For example, they are aiming to work with the University of Pretoria to develop new natural language processing tools and methods for South African languages.
They have also signed a trade-exchange agreement with SABC radio station Munghana Lonene, which broadcasts in Xitsonga. 
Ntsanwisi's presentation was followed by a passionate debate about the viability of regional and national cooperatives. The AIP delegates vowed to follow up the Ohio trip with a renewed effort to work together in generating revenue for independent publishers. 
Bill Reader pointed out that AIP's publishers collectively have the largest journalism workforce in South Africa. 
Watch recordings from Day 2 here and here.