Print is not the driver any more – you have got to have other products
Day three of the AIP trip to Ohio was full of inspiring and challenging examples of news companies that diversified in order to ensure their growth and sustainability.
Publisher and Editor Levi Rickert of Native News Onlne is a tribal citizen of the Prairie Band Potawatomi Nation. 
Native News Online is a digital-only news site that focuses on Rickert's mission of improving the lives of Indigenous people.
"The word we use is Impact, Rickert said, "we want to say we are making a difference, not just being victims."
For nine years, Rickert said, he spent 90% of his effort on editorial and 10% on business. After getting a business partner and putting a team in place they increased donations from approximately $3,200 to over $140,000 a year. 
"When you think you've asked enough, keep asking," he was told by an advisor on how to use FaceBook Advertising
During the Covid pandemic, they realised they could also get grant money. For example, they have had sponsorships of content on topics close to the hearts of their readers and advertisers, such as opioid abuse, and live streams of the Tribal Economic Summit.
"The terrible story we decided to cover extensively was about how Native American children were removed from their families.
"Every single Native American in the US today is still impacted by the attempt to destroy the fabric of Native American families. It's 100 or so pages, paused and circled the page with the note that the government tried to destroy the culture, to me it's very important particularly what Native Americans experienced.
Native American children were stolen and put into boarding schools where they were beaten with "Jesus ropes" 
In a poignant moment, Ricket apologised for leaving before question time because Wednesday was the day on which was called to receive his Indian name.
Next up was Kevin Adelstein of the Cleveland Jewish News, which started out with one weekly newspaper. Their revenue streams now include paid subscriptions, events, custom and bespoke magazine and newspaper publishing, and a series of lifestyle magazines.
"We pride ourselves on our independence. We are non-partisan, we have never endorsed political candidates. We provide a platform for a diverse group of voices to be expressed through our pages. When we have both sides of the aisle complaining we're doing something right."
They see themselves as much more than a Jewish newspaper company. "We've diversified our revenue streams because of the vulnerability of newspapers."
 We will not sell our database but will sell access to the database, Adelstein says, adding: "We will take your message and send it out to our subscribers."
They also have an event division, producing community events with speakers and tribute events with, for example, well-known actors.
In addition, they have a magazine publishing division which publishes magazines for city councils, who control the content but they manage every aspect of the process including selling advertising, creating the content and delivering the magazines. 
In 1996, when David Woronoff and his four partners bought The Pilot, it consisted of a twice-weekly print newspaper. They quickly realised that it would not be enough to sustain the business. (See The Pilot presentation here.)
"The story is about innovation, diversification, entrepreneurship and thinking outside of the box," said The Pilot's John Nagy.
Their first different product was a telephone directory.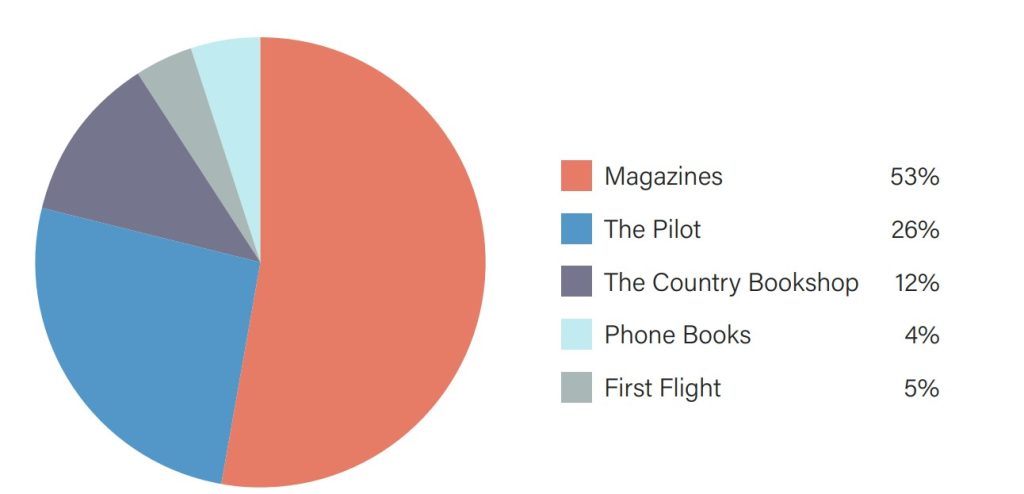 The business now consists of five main revenue streams, of which the biggest is magazines (which in the past year contributed 53% of revenue), The Pilot (26%), The Country Bookshop (12%, Phone books (4%) and First Flight digital marketing and media services agency (5%), which includes managing websites, public relations, social media delivery and digital video production.
Nagy says the most important department in the business is advertising sales because "advertising makes possible the free press".
"Nothing we do can be done without bringing in the revenue." Second is accounting, because they pay the bills. And then "the newspaper's duty is to print the paper and to raise hell".
Nagy emphasised that the newspaper is not the driver any more. "You have got to have other products. If all we did was stay as a newspaper print product the chances of success are few, given the economic headwinds". 
South African publishers Mbali Dhlomo of Genuine Magazine and Intuthuko Newspapers (presentation here) and Mahmood Sanglay of Muslim Views (presentation here) then presented their publications' stories and strategies.
In the decades since Dhlomo launched Genuine Magazine, she has had many successes, won many awards and introduced many innovations.
And yet, as she says, because is not hands-on and is able to do every part of the process, she has been able to keep the business alive.
The biggest challenges they have faced are the inability to attract suitably-qualified staff, the shortage of funds to grow the business and the shortage of advertising revenue which is the main source of funding for the business.
Dhlomo warned about getting lazy when getting grant funding and failing to plan for the time when the grant is no longer available. "Work as if there is no grant." 
She also shared some of the key lessons she has learned along the way. 
"This is a proper business, and it must be run as such," was top of the list. She also urged publishers to plan ahead, to be hands-on but delegate and assist their team to finish the job. act with honesty and integrity, focus on your goals, and collaborate with other publishers.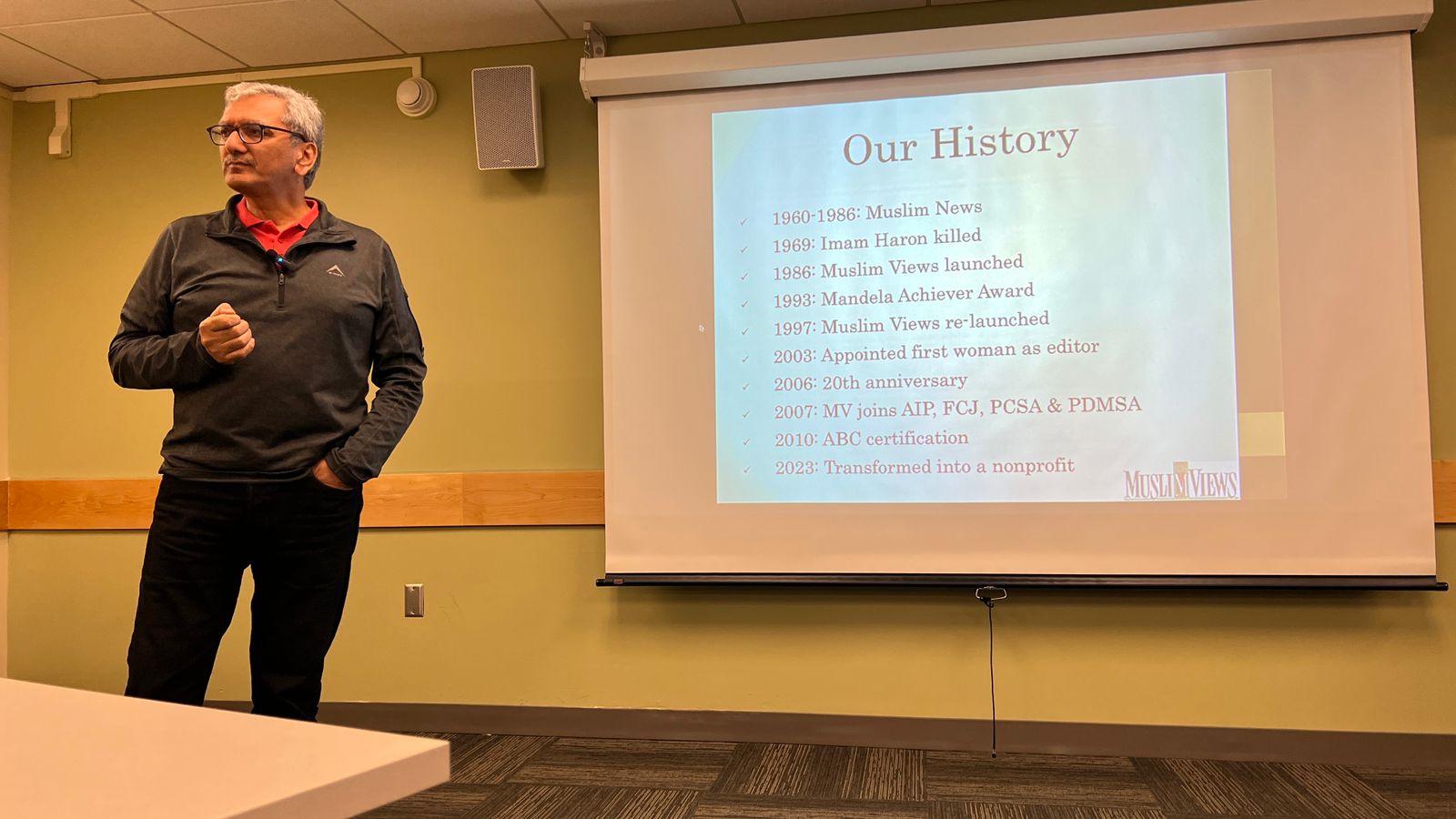 Mahmood Sanglay stressed the importance of knowing your mission statement by heart.
"Muslim Views is an independent media organisation using contemporary media to provide information, comment and analysis and to advocate universal values and social justice."
Muslim Views is implementing major strategic changes including starting an email newsletter and converting to a nonprofit company.
"It's better to give up our shareholdings and earn something to make the newspaper sustainable as opposed to owning 100% of zero. Being a private company only has merit if it is making a profit." 
Watch the recording of Day 3 here.