Growing commercial pressures are resulting in increasing numbers of publishers turning to nonprofit models to ensure they are able to serve their communities.
The Institute for Nonprofit News (INN) supports more than 400 independent news organisations to "develop revenue and business models to support strong reporting, collaborate on editorial and business innovation, share services and advance the diverse leaders who are forging a new future for news".
INN aims to expand its members' reach and impact in informing communities, holding the powerful accountable and strengthening democracy.
Executive director Sue Cross told us that about 40 percent of INN members are local and the other 60 percent are working in "verticals" which focus on specific issues across geographic areas, such as environment and health.
INN has developed freely-available guides that would be useful for AIP member publishers seeking to use nonprofit models. Although they are developed for the US, there are many that would be worth exploring.
Topics include "Launch a nonprofit outlet from scratch", "Convert to a nonprofit, and "Create and grow earned revenue".
Individual giving and reader revenue are growing. INN is noticing that younger people won't subscribe but they will donate and that people are increasingly willing to donate to local news.
Collaborative or matched funding is increasingly common, whereby philanthropists match individual donations, for example doubling all donations up to $1000.
Lisa Snowden of the Baltimore Beat shared how she started the paper when a previous local paper stopped publishing. She noticed other newsrooms with similar problems were turning to nonprofit models. 
Baltimore Beat started with small-dollar donations (the "Patreon" model) and this still forms the bulk of their funding.
20,000 copies of the newspaper are distributed freely across the city, unlike previous free papers which used to be only available in the white part of the city. 
The Baltimore Beat has successfully captured the attention of its local audience while addressing social issues such as police brutality and racial segregation.
An example of their focus on supporting their community is their Beat Boxes which are used to distribute the newspapers but also for people to share food, medicines and other essential supplies.
Tim Marema explained how the Daily Yonder focuses on providing news, commentary, and analysis for rural America. 
"We felt rural issues and communities were not adequately reflected in dominant media. Our idea was that we could help those outlets understand rural America better."
He highlighted the importance of understanding the unique challenges faced by rural communities and ensuring their voices are represented. 
Daily Yonder reaches its target audience through its website, radio programs, and partnerships with publishers who republish its content freely.
Their funding model is primarily philanthropy from foundations.
"Relatively few foundations want to fund journalism per se. Many more want to fund areas of interest so our primary method is to approach funders interested in areas we work in and explain how our work relates to their areas of their concern".
They also encourage individual donations and sell merchandise.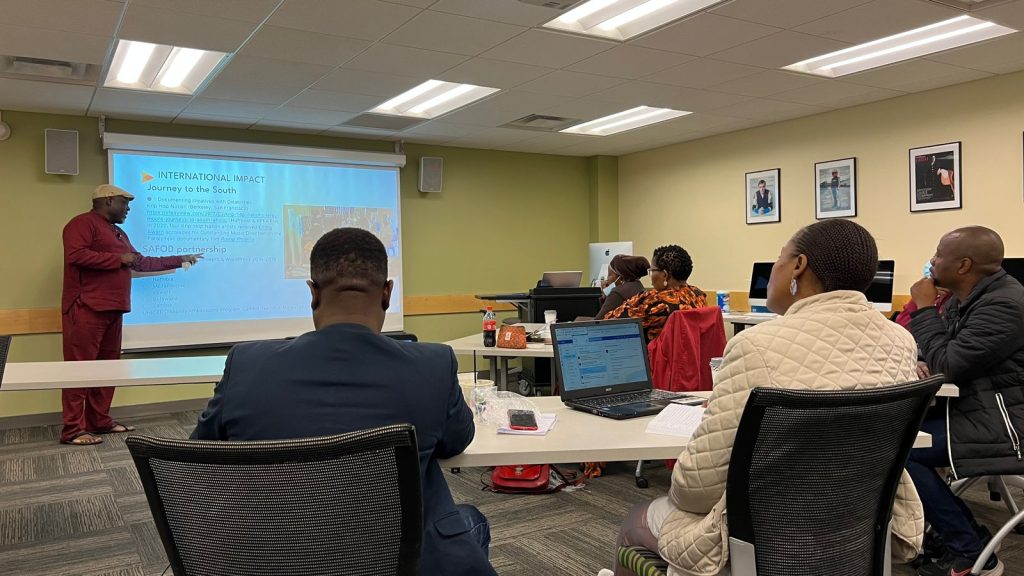 Simon Manda, founder of ThisAbility presented on the importance of sharing content, forming partnerships, and providing training opportunities. 
By focusing on the underrepresented demographic of people with disabilities, ThisAbility aims to increase understanding and inclusivity in the media landscape. 
Manda emphasises the need for corporates to recognize the significance of disability and foster greater awareness through their support.
Do take the time to watch this 5-minute video on ThisAbility.
Boutique media group Likhanyile has publishing, corporate communications and tutoring divisions.
Slindile Khanyile explained how their journalism is funded by their other business activities but at the same time creates awareness of their brand and brings in business.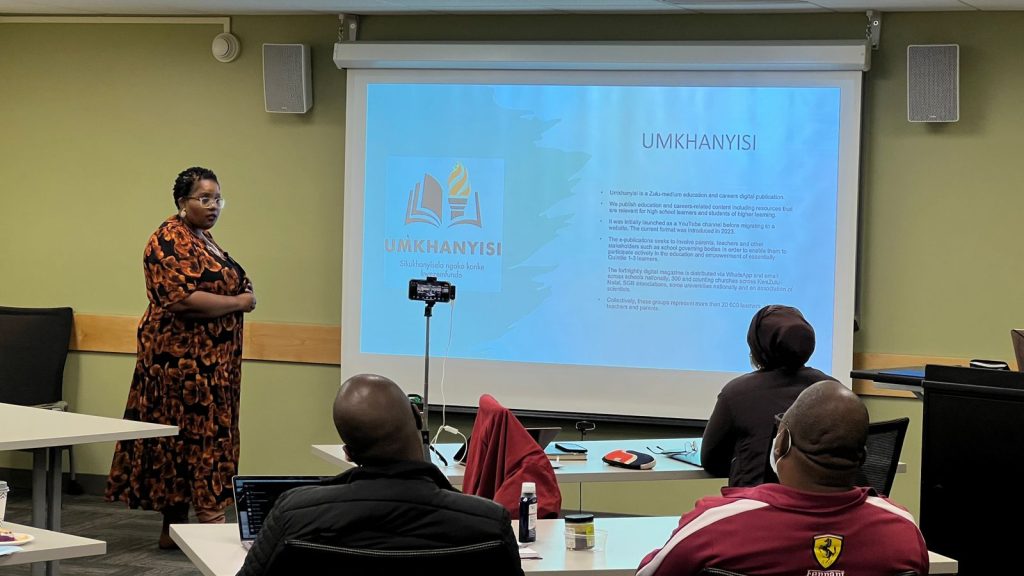 Umbele, their Zulu-medium online business publication, uses text and audio to tell stories about SMMEs, agriculture, personal finance, technology and labour to emerging entrepreneurs, aspiring entrepreneurs, low-income earners and consumers.
Since Umbele's inception (September 2020) to date, they have profiled 150 emerging farmers and 375 SMMEs across South Africa.
They distribute our content via their website www.umbele.co.za, mobile app Ayoba, Ilanga newspaper and VumaFM, a regional dual-language commercial radio station in KwaZulu-Natal.
"We do not have a conversation with anyone who wants us to give up copyright," Slindile told us.
As week one of the AIP-Ohio University programme comes to an end, take a moment to listen to this podcast produced by the delegation where they highlight their key takeaways thus far: