For most South Africans, the concept of Memorial Day is somewhat artificial. Not for the Americans, who use this day on 29 May to both commemorate their fallen heroes and to welcome the summer after a long frozen winter.
There are floats and marches galore, and it was in this maelstrom of Memorial Day that the delegates were deposited. 
On Saturday 27 May, host and now chauffeur, Jatin Srivastava, picked up delegates for the drive to Columbus and Mansfield. Slindile Khanyile, Mahmood Sanglay and Simon Manda were assigned to Columbus, and Chris Mcinga and Nirmala Govender to Mansfield. 
Meanwhile, Bill Reader, joined by Des Latham, drove Mbali Dhlomo and Peter Luhanga to Logan and Anetta Mangxaba won the long trip award to Celina.
But the three-hour journey paid off for Mangxaba, as she found that she was to join a paper alongside one of the more scenic lakes in Ohio. 
Dunisani Ntsanwisi and Andile Nomabhunga were picked up on Memorial Day and spent three hours watching the unusual rural scenery as Bill Reader took the back roads to Yellow Springs. 
The small town has a vibrant paper and is also known as the place where comedian Dave Chappelle grew up. 
Here are the thoughts of some of the delegates after a few days with their hosts in Ohio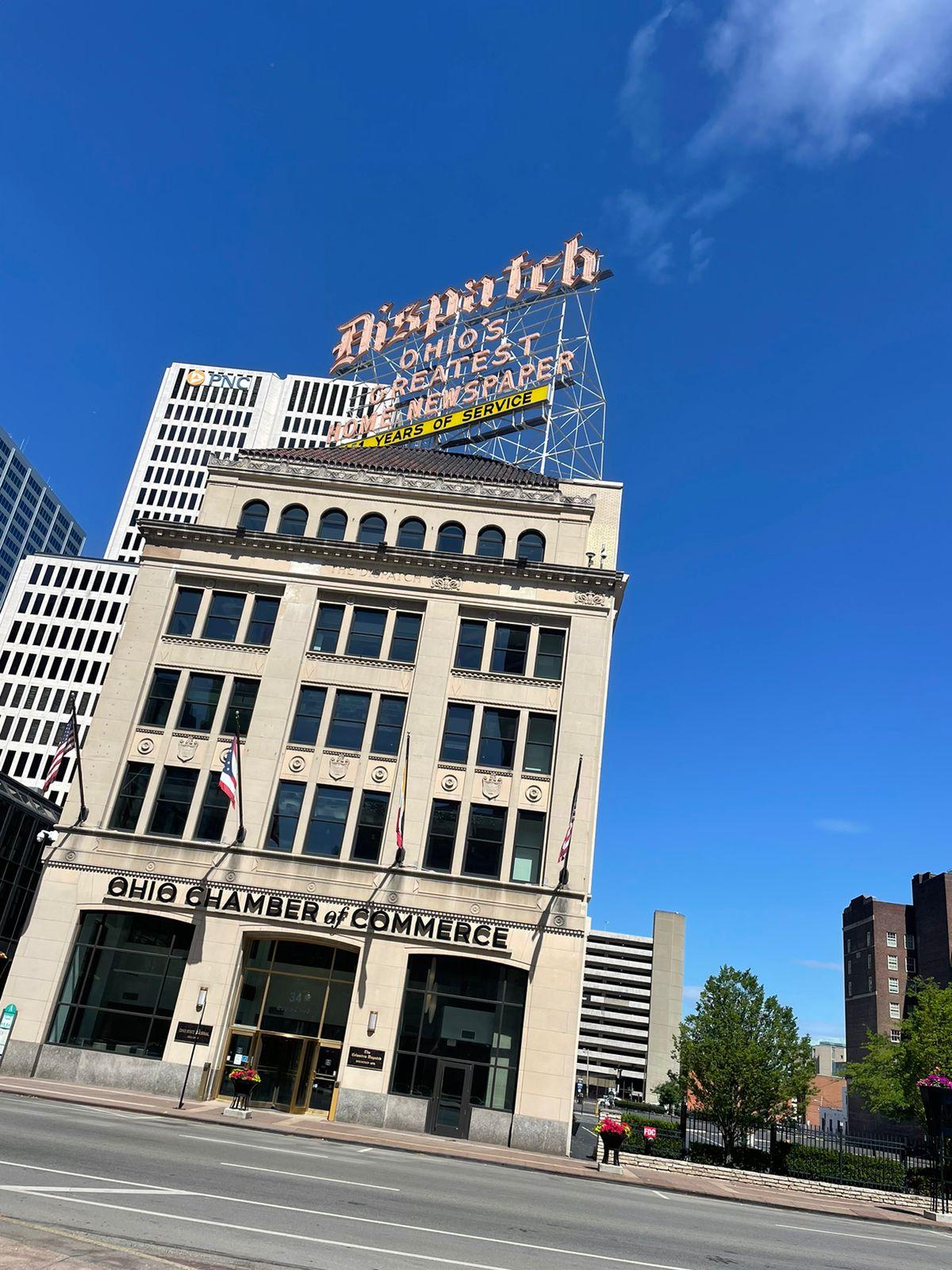 Slindile Khanyile was upbeat after her first 24 hours with her hosts. 
"Hi, guys. I spent my first day at Columbus Underground today. We spoke about the overall business strategy, their history, how they have evolved over the last two decades and how they are navigating the current challenges.
"They felt it is best to chat about all the business stuff today (their team is on holiday) because they wanted to speak freely, especially about revenue matters. They have built an incredible business, especially their events unit. They also sell merchandise. We went out for lunch and took a walk around the Scioto River. Downtown here is really amazing and cool, though I think in a few years, they will lose the character that makes it downtown because there is a lot of construction work. 
"Apparently, a lot of the office buildings are being converted into residential apartments because there is no demand for office space since COVID-19. Columbus Underground also has good relationships with universities, restaurants and arts centres, which they leverage very well."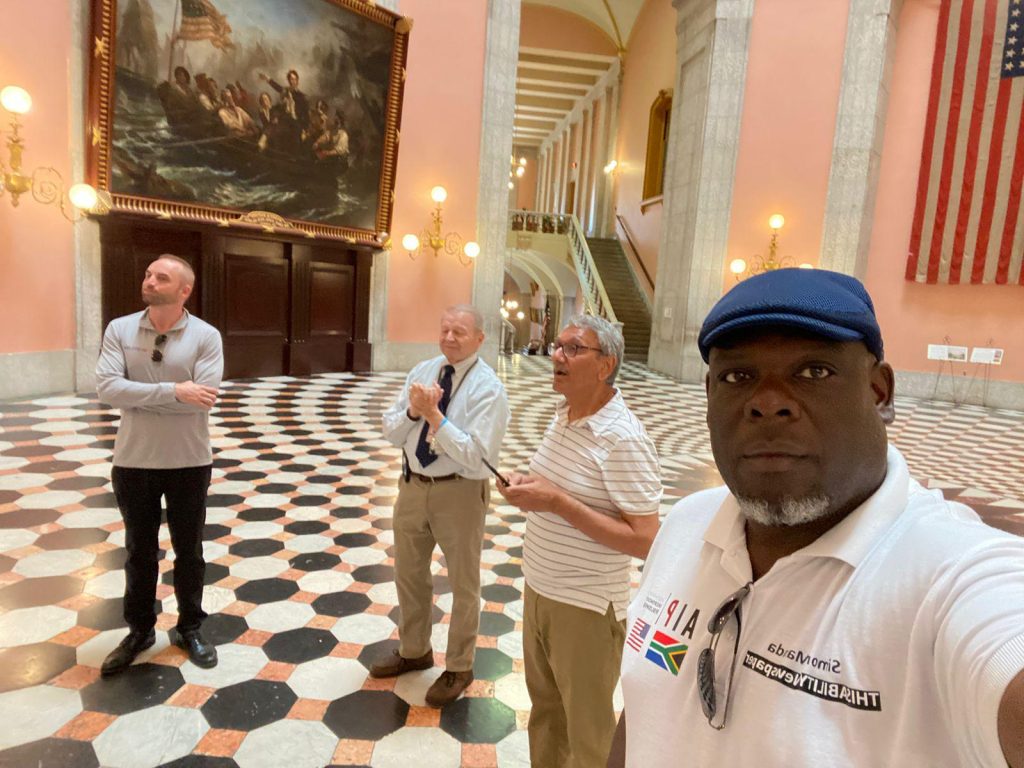 Simon Manda was also getting into the swing of things with a few updates which started flowing in. He headed off on the State House tour on 30 May and reported that:
"Columbus is the capital of Ohio with 33 senators and they all have offices here and currently doing the budget for the state. We will be joining the budget prep tomorrow. This Senate Building has a long history and heritage from the Greek-Roman Empire architectural influences to the fact that President Lincoln lay in state in this building after his assassination. Our tour guide is a former teacher and has been doing this job voluntarily for the past 26 years! He's 80 years old!"
Meanwhile, Chris Mcinga has been posting regular updates proving that this trip has been both productive and informative so far. 
"Today we spent time with the Editorial team after helping close a $22500 campaign partnership with the local bank. The campaign is built around school sports. The bank is incentivising schools to submit their top athlete.
"Monthly, they will write a review on the top athlete when selected. The school gets a $1000 sponsorship to the sports department. The student-athlete gets exposure, the bank gets marketing, Richland Source Newspaper gets school kids their parents and their friends checking the news site each month to see who won… and obviously they get the news organisation gets the advertising spend.
"We also spent time with the Leadership (Management Team) CEO Jay who is super excited about us being here and also we are happy being here too. Tomorrow we will discuss how they work with AI and also we will spend time with the Ad Executives to discuss commercial products."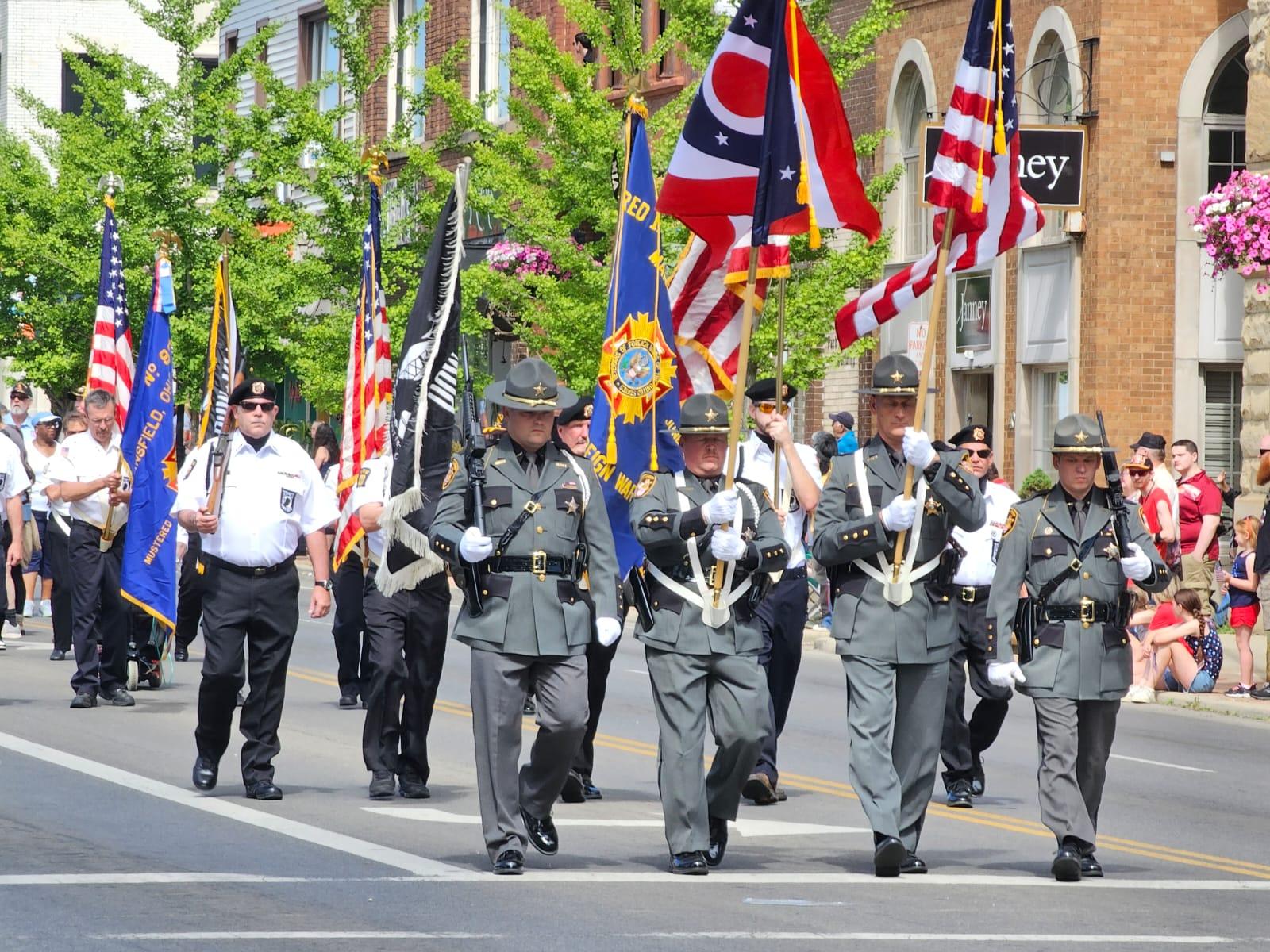 Nirmala Govender, alias Shirley, broke into the big time when her host decided to use a photo she shot for the home page of the website! 
"This pic I took earlier today in Mansfield was selected by Larry Phillips, Richland Source's Editor, as lead for the Memorial Day coverage. There were about 12 of my pics used in total. It was good to experience this depth of patriotism that locals displayed. It was moving to hear the war veterans speak of their experiences. Tomorrow it's back to work as the full team will be available to talk Chris and I through their business and newsroom operations."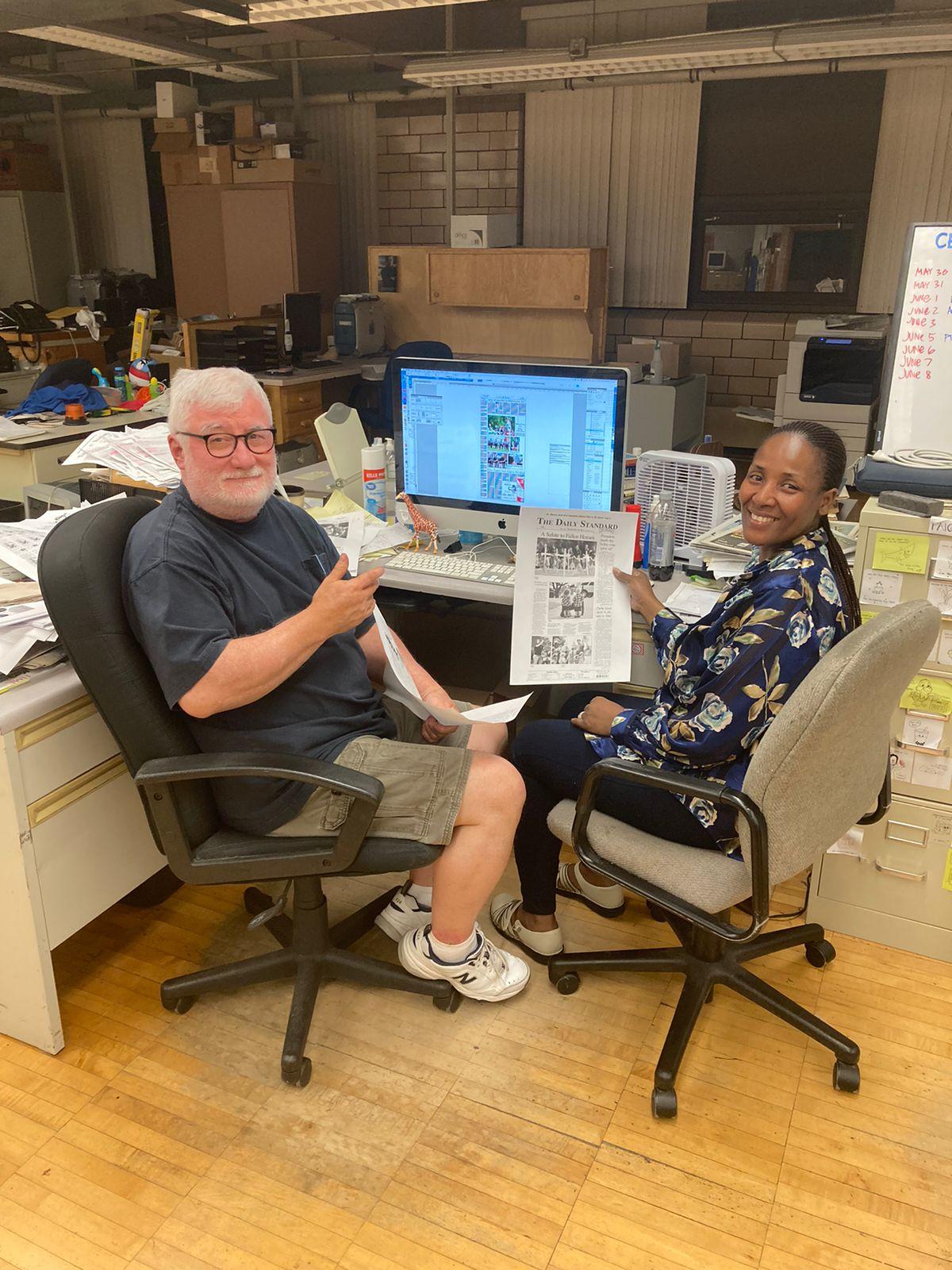 Anetta Mangxaba has also been extremely busy, spending time shadowing the graphic design team at The Daily Standard in Celina.
Mbali Dhlomo and Peter Luhanga were also out on the Memorial Day beat and posted some images. They prepared and sent pages for our publications at their host's offices.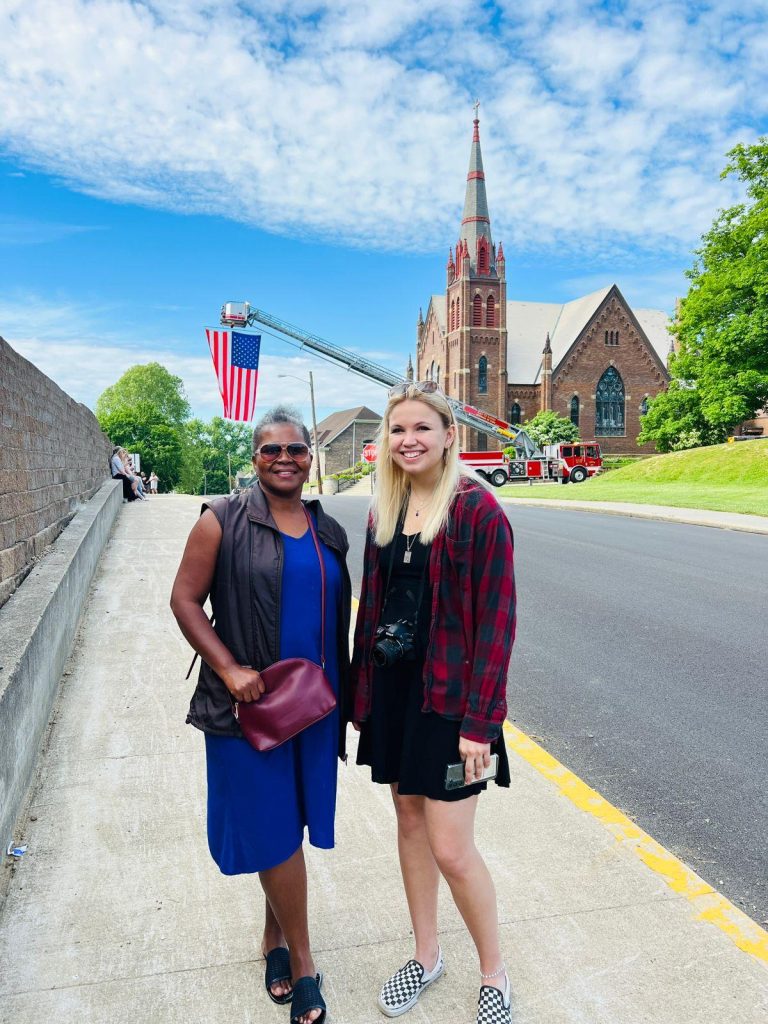 "Once done, we had a chat about our respective businesses and the similarities in the manner we do things. Then she invited us for supper and we had this amazing Italian soup that she made, with bread and dessert. She invited her family and friends over.
"Then we sat on the verandah and we chatted about various topics. And Peter was taken for a drive in a black Mustang! So we have made friends and family here. They are asking us whether we will come back again."