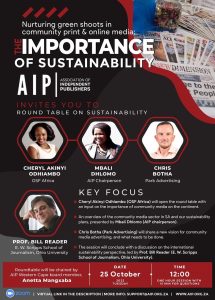 You are invited to AIP-OSF round table on sustainability
Nurturing green shoots in community print and online media: The importance of keeping sustainability the focus
Register in advance for this meeting:
CLICK THE LINK TO REGISTER : https://us06web.zoom.us/meeting/register/tZIpceigqzojEtN2FwXvWugBxbTuWH6bYu37
*Zoom link will be sent to you once you have registered
The 1 hour session will be followed by a 15 minute Q&A
Date:Tuesday 25 October
Time: 12 noon
The roundtable will be chaired by our AIP Western Cape board member, Anetta Mangxaba, Cheryl Akinyi Odhiambo (OSF Africa) will open the round table with an input on the importance of community media on the continent. We will then have an overview of the community media sector in SA and our sustainability plans, presented by Mbali Dhlomo (AIP chairperson).
Chris Botha (Park Advertising) will share a new vision for community media advertising, and what needs to be done. The session will conclude with a discussion on the international sustainability perspective, led by Prof. Bill Reader (E. W. Scripps School of Journalism, Ohio University).
Register in advance for this meeting:
https://us06web.zoom.us/meeting/register/tZIpceigqzojEtN2FwXvWugBxbTuWH6bYu37