The morning started with a presentation from Prof Sam Mwangi, director of the Huck Boyd National Center for Community Media based at Kansas State University. Prof Mwangi is originally Kenyan and had a refreshing developing world approach to media. 
He shared the history of the Huck Boyd Centre which is to "serve and strengthen local newspapers, broadcast stations and other media that play a key role in the survival and revitalisation of America's small towns and rural communities". Prof Mwangi stated that the centre promotes this vision through conducting research, training, workshops, an annual community media lecture and partnerships.
"We are in the business of discovering the next sustainable model," Prof Mwangi said. News will always be relevant, the platform will change but the business will remain.
"If you are serving people relevant content, never mind the platform."
Prof Mwangi shared a number of ideas that publishers could experiment with to sustain their publications including holding events and delivering a number of services (cellphone repairs, wedding and event photography).
He said he has found three main models for partnering with local high school students to produce content: pay the student; provide skills training in exchange for content; and find a donor to fund the partnership between the school and the newspaper.
AIP delegates shared their experiences with using volunteers and interns. In South Africa, it is often the reality that people need to cover basic costs, for example, transport.
Muslim Views is thinking of a different solution in which they go into schools for a week to teach journalism and writing skills, in consultation with teachers and educators. In return for the training, the learner writes a story.
Similarly, Student Living is based around students producing content through "work-integrated learning," with no expectation of stipends. Chris Mcinga cautioned that media organisations also need to indemnify themselves in case something happens to an intern while reporting.
AIP delegates also shared examples of partnerships between radio stations and newspapers, which often involved providing free content in return for exposure on radio.
Prof Mwangi shared a number of low-cost, digital journalism and accounting tools. He encouraged publishers to test and experiment. His suggested tools included the following:
Prof Mwangi stated that he was happy for AIP members to contact him directly to discuss the tools. His email address is [email protected].
AIP publishers in the room were excited by the possibilities of joint projects with the centre, tapping into funding opportunities that the centre promised to facilitate, etc.
Please find the link to Prof Mwangi's presentation here. 
You can also watch Prof Mwangi's session below.
The morning session was then followed by a fast-paced, expert online panel moderated by Ben LaPoe on AI. This was a panel that AIP publishers had specifically requested and Prof Bill Reader had come to the party. A series of professors shared their research and insights.
Some of the takeaways from that session included the importance of community journalists being early adopters of AI technologies so as to experiment, and innovate but also to explain the ethical implications and challenges.
Huyen Nguyen of Kansas State University shared her top tools for AI:
In a refrain echoed by all the presenters, Huyen Nguyen said it is crucial to "keep humans in the loop".
Watch Nguyen's presentation here.
West Virginia University's Dana Coester was upbeat about the opportunities posed by AI but also warned about the threats.
Coester said the true disruption to our industry was not to how we created content but distribution models and argued that we can use AI to take back control of distribution. Her Twitter account  is very useful to follow for practical advice on how to use AI, for example how to train ChatGTP with the voice of a brand.
In discussion, Dana said that as a publisher she is moving away from using social media which no longer drives much traffic or helps monetise content. 
It's time to switch to more direct relationships with our communities that do not rely on social such as gathering emails and phone numbers. 
With regard to ethics for journalists using AI, Dana recommended checking out The Centre for Humane Technology.
Auburn University's Gheni Platenburg reinforced the importance of real human journalism and said AI provides many opportunities to combat news avoidance, although it may not be able to produce the right story content.
Louisiana State University Journalism history expert Will Mari pointed out that there has been a long history of perceived technical threats posed to journalism. If you want copies of books, email [email protected] or [email protected].
Presenters emphasised that using AI does not require powerful computers as many AI platforms are browser-based. 
AIP will be creating a section of its website dedicated to sustainability and one of the key sections will be dedicated to AI. AIP will be gathering all the latest links, resources and research from the panel professors.
We had a surprise in the evening. Publishers, Peter Luhanga and Simon Manda discovered through a taxi trip that famous South African writer, playwright and painter, Zakes Mda was living in Athens. They then went a step further and got us an invite. The famous prof invited us all over for a glass of wine. Here are some pics to prove our luck! What an honour.
Here's a description of how this remarkable coincidence played out, as explained by Peter. 
"Dunisani, Simon and I (Peter) went out for a late Sunday lunch. Our last Sunday in the United States. There was no shuttle on Sunday and no public transport. No e-hailing services and so we got a contact number for a cab driver at the hotel reception, and even though we told the cab driver, we'd utilise his services to get back, his telephone was switched off when we called him. Not wanting to walk back, we searched on the internet and got another cab driver, who, when we got in his cab,  asked us where we were from to which we responded that we are South Africans prompting him to warm up and stated that he knew a professor from SA who is now retired from Ohio University. 
"He called the professor immediately and told him about the AIP delegation on a study trip to Ohio University. Prof immediately agreed to meet us and we ended up at his house late afternoon on Monday."
Thus the special afternoon session with Professor Zakes Mda. His novel Cion was set in southeast Ohio and nominated for the NAACP Image Award, and he has published 31 books in total. The Professor commutes between the USA and South Africa and is a Professor Emeritus of English at Ohio University, Extraordinary Professor of English at the University of the Western Cape, and uniquely, a beekeeper in the Eastern Cape.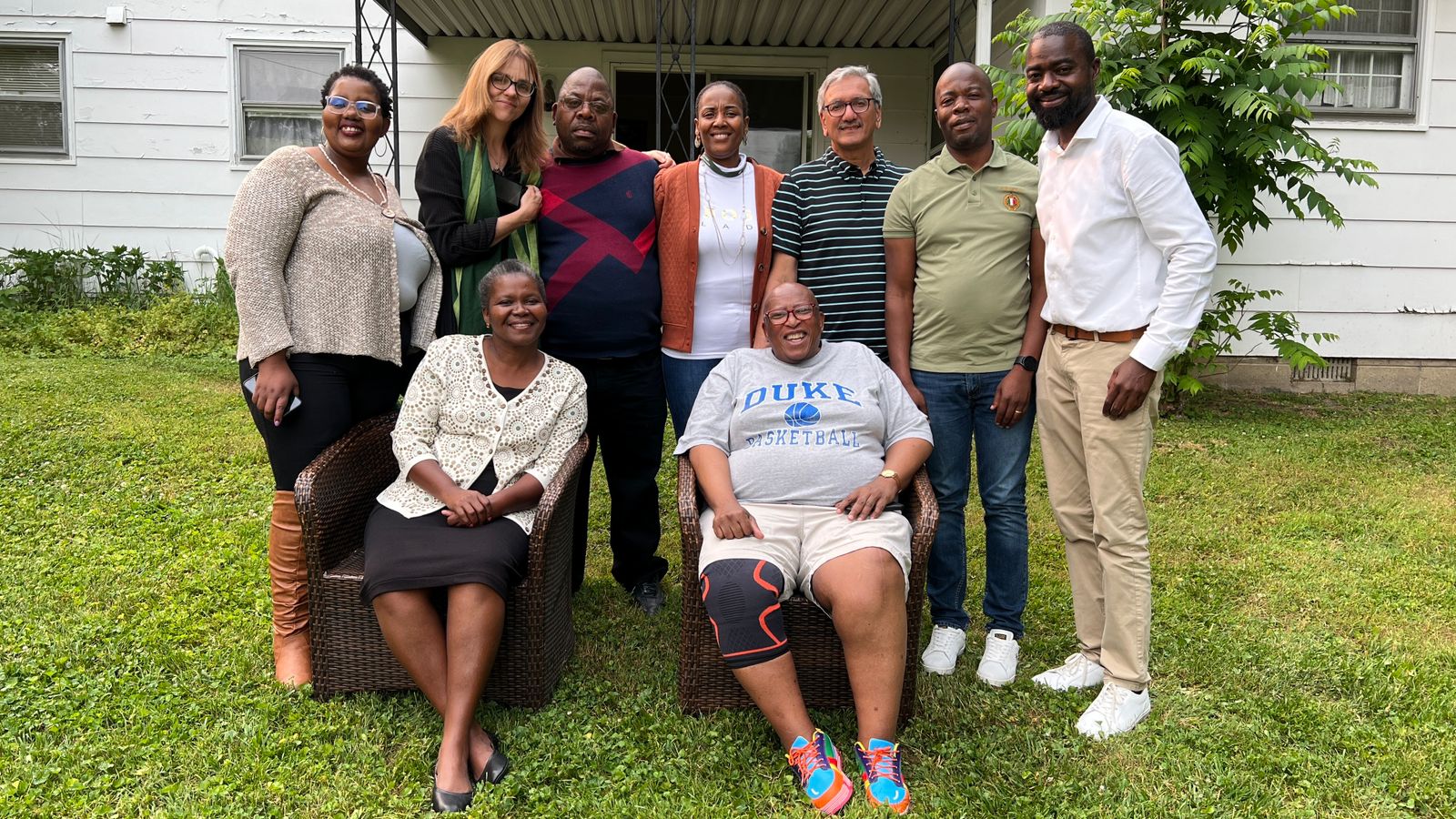 While the Ohio University study visit nears its end, it is not too late to catch up on the sessions and gain insight from the delegates' experiences. Watch this discussion featuring Mbali Dhlomo, (speaking Zulu) Dunisani Ntsanwisi (speaking Tsonga) and Anetta Mangxaba (speaking Xhosa and Afrikaans) where they share their key takeaways from Week 1.