Thursday morning's highly informative session on "Special Sections and Niche Products" was presented by experienced members of the Ohio News Media Association (ONMA).
Executive director Monica Nieporte shared her experience of being in charge of twelve newspapers. Prior to joining ONMA, Nieporte served as the president and publisher of the APG Ohio media group in Athens.
She also served as regional vice president of American Consolidated Media, as publisher in Logan, editor and reporter in Athens, and as city editor at the Zanesville Times Recorder.
One of the most beneficial things they did every year, she said, was talk about the "special opportunities for the upcoming year that they didn't want to miss and wanted to start planning for". 
They would conduct thorough research, and speak to the historical society, the chamber of business, the local council and other roleplayers to identify activities that their newspapers could take advantage of.
A key lesson they learned is that when you find something new with great potential, you must get rid of something you've been doing before that isn't working any more.
"Don't try to cram it in. she said. "Get rid of the weakest thing and replace it."
Special sections are often a lot of work but can bring in a lot of money. They don't have to be a stand-alone printed section, they could just be pages in the paper itself.
For example, they created a "Xmas in July" section which started as a small idea with just two pages in a newspaper but turned into an annual sidewalk sale.
Other examples were:
A salute to graduates where businesses congratulate the current class and parents can submit photographs of graduates.

Sports preview sections: fall football (soccer) and winter basketball sections could generate a good amount of business participation and could feature photos of teams, rosters and schedules and a couple of feature stories.

County fair or local festival sections which include photos from previous years, schedules of events and adverts from local businesses.

Voter guides.

Local sports teams going to championships.

Local athlete or celebrity makes it "big" – for example a local football player becomes NFL's number one draft pick or a local band appears on The Voice or American Idol.

Bicentennial community or other historic milestones.

Milestone events of local colleges, such as a 50th anniversary.

Pet and baby contests, with a business putting up a prize for the winners.

Event guides: sometimes event organisers have their own guide but this doesn't mean you can't do your version.

Business directories, in partnership with a local business chamber.
She also stressed the importance of building relationships with advertising agencies that have local representatives.
"The ones that you can develop a personal relationship with, if there are any located in your town, call them up, ask for the salesperson, take them to lunch, get to know what they do, and they'll be more cooperative,"  she said.
John Karlovec is editor of the paid weekly The Geauga County Maple Leaf (weekly paid). The Karlovec Media Group bought The Geauga County Maple Leaf out of bankruptcy in 2000 and now owns five newspapers.
"We do the basic local news," John said. "We don't compete with the six o'clock television news. We stick to the confines of our county. The thinner you spread yourself the less interest you'll get from your people".
Karlovec also emphasised the importance of planning ahead. A decade ago, they came up with a list of special sections. 
"A newspaper has a lot of bread and butter advertisers," he said, "but lots of businesses won't be regular advertisers." These advertisers could be marketing to a different demographic so they find ways to attract them to a special section.
See examples of their special sections here:
https://www.geaugamapleleaf.com/e-edition/special-sections/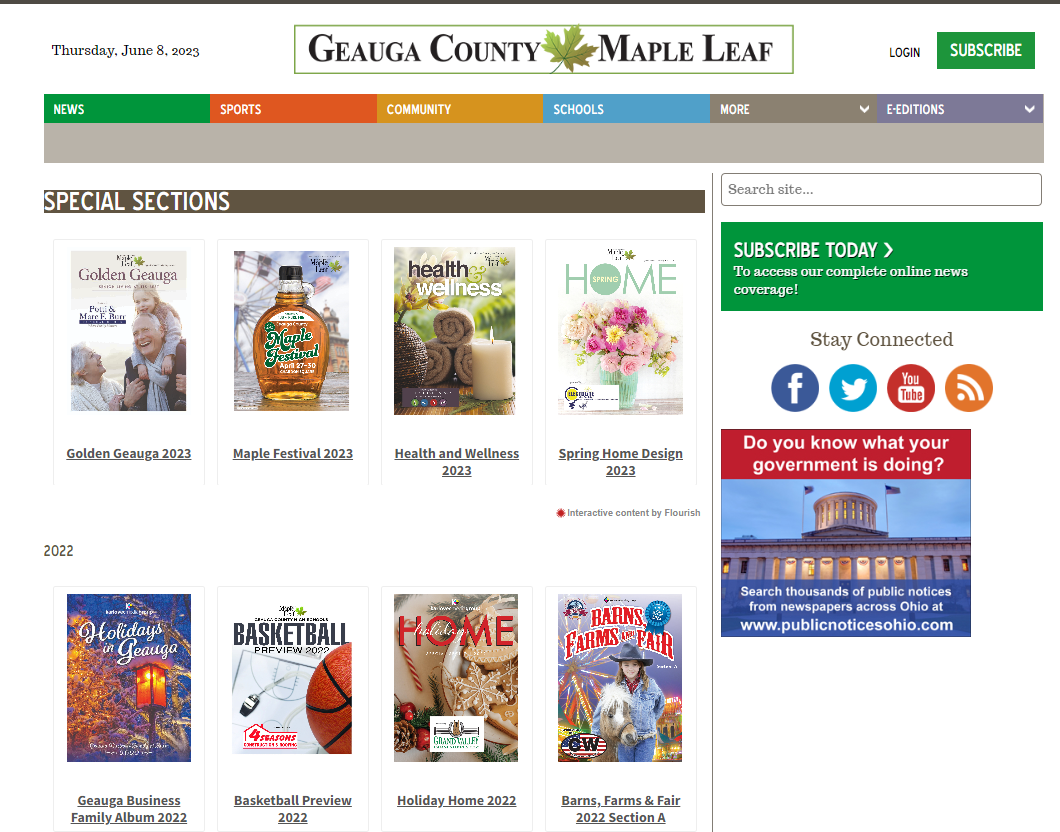 They also have an innovative way of rewarding people who advertise in multiple special sections. Initially, they set a discounted rate for multiple sections but sometimes they opted out after one or two so now advertisers earn discounts as they advance, with each successive advert getting a bigger discount. 
The Karlovec Media Group have an impressive and highly professional guide for advertisers which makes it much easier to sell advertising because all the information is well laid out.
View the guide here: Karlovec Media Group media kit 2023 by Geauga County Maple Leaf – Issuu
One of their most profitable special sections is Holidays in Geauga, which can be viewed here.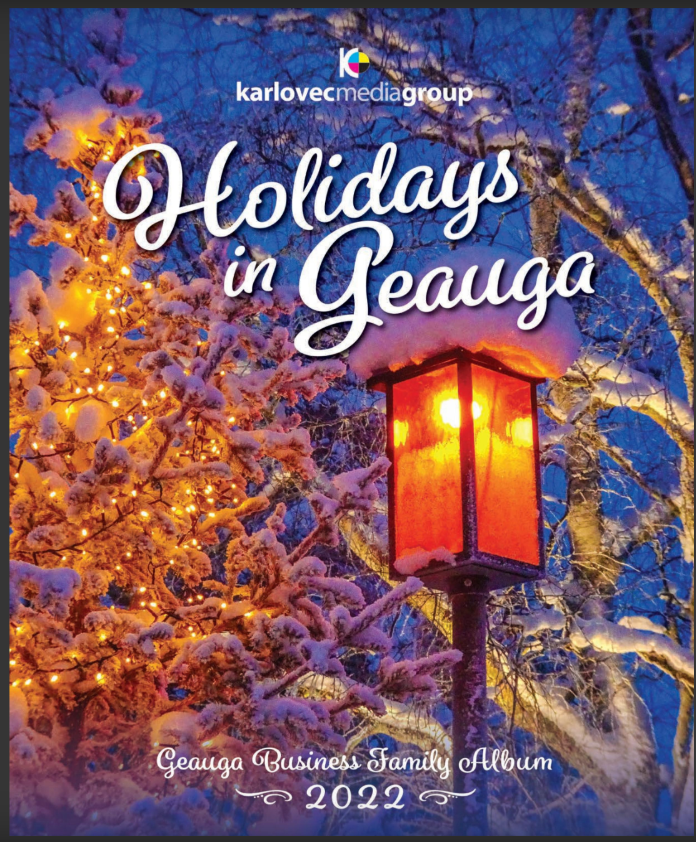 For next year, they are planning a special section on women in business, with success stories and advice from successful businesswomen.
Karlovec also mentioned that they have a "hybrid" paywall, with some content such as obituaries and non-exclusive stories in front of the paywall to draw traffic.
AIP publisher, Peter Luhanga asked the question: "What do you do with people who send you press statements but don't want to advertise?"
An animated discussion ensued. Some ideas put forward included:
Keep banging the drum that if you don't get advertising you won't survive.

See if you can persuade the organisation/business to advertise in one of the special sections or supplements if they won't advertise in the main body.

To build goodwill you could upload some press statements to your social media pages and website as that is quick and easy and doesn't take up space. Lure them in that way.
Archbold Buckeye has been owned and operated by Mary Huber & David Pugh since 2019
"We're a family-owned local newspaper with very strict rules," Mary Huber told the delegates. "We don't give special discounts. Sometimes you just have to hold firm, you will get your price, it's their job to get the best price, so stand firm."
 They also charge agencies "the same as everybody else."
They do offer a "discount", or more accurately a lower price for payment in advance and a higher price for payment after printing.
Archbold is a small town of 4500 but it has a vibrant manufacturing sector. The staff at the local paper have an unusually long association, often working over twenty years. One staff member recently retired after 35 years at the Archbold Buckeye. 
As many in the community media space know, it is often the local journalist and publisher who has the best story to tell. Mary Huber explained how the Archbold Buckeye had supported a local musical trio who call themselves "Girl Named Tom" who are all siblings, 
The trio went on to a national competition called "The Voice" on television and won top honours. The newspaper had an archive of photographs featuring members of the trio when they were school in sports and other events, and on the evening of The Voice final, they had negotiated a special colour photo insert sponsored by a local bank. 
"We were 90% sure they were going to win, we would have been shocked if they hadn't won, we had no backup plan," she said. 
The trio won, and the printer was told to go ahead with the run close to midnight. It was one of the examples she used to highlight the importance of building a visual archive of local people which could prove useful when a big national story breaks. 
AIP publisher, Chris Mcinga concluded the session by thanking the speakers and saying that he had been inspired by the sense of community in the US and the fact that community newspapers are at the centre of this. He said, "We have a lot of work to do in SA to build some of our divided, gated communities".
FEATURED IMAGE: The photo at the top of this article is from a lunchtime award ceremony that members of AIP attended at the E.W. Scripps School of Journalism. The ceremony honoured Jim Heintz, the Associated Press' Russia editor (far-right foreground), who received the School of Journalism's highest alumni award on June 7. To the right of Heintz is fellow Ohio University graduate Anne Saker of the Cincinnati Enquirer newspaper; Eddith Dashiell, director of the E.W. Scripps School of Journalism at Ohio University (background); AIP member Slindile Khanyile of Likhanyile Group; AIP director Kate Skinner; and AIP member Chris Mcinga of MeD8 Media.